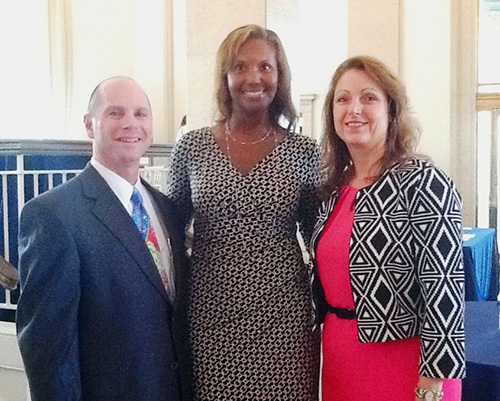 On September 9, 2015, DBHDD hosted the first annual Creative Recovery Art Exhibit showcasing the talents of people who live with mental health challenges, and the role that creative outlets like art can play in the recovery process.  Held at the Venetian Room at Hurt Plaza in downtown Atlanta, the event drew a crowd of about 75 people.  It was sponsored by DBHDD's Office of Adult Mental Health and NAMI Georgia, and featured artwork submitted by people who receive or have received services from DBHDD's adult community mental health providers.
Research has shown that many individuals in recovery from mental health challenges report the importance of art as an integral component of their recovery journey.  Writing, painting, drawing, jewelry-making, and other arts are enjoyable activities which can also be a portal for expression of emotions and experiences that individuals may not have been able to express in any other way.  Art is used in many community mental health programs in Georgia as a powerful healing tool to help individuals explore deep emotions—the sadness, the hopelessness, the fear, and eventually the relief, the joys, and the hope of a new day.
"Art has been a huge part of my recovery," said Candy C., one of the exhibit's featured artists.  "When I had been at my lowest point, picking up my pencils has helped me tremendously.  I oftentimes find myself in another world, a quite beautiful world where creativity takes place inside of me.  When life appears dark, pencil in hand, provides an outlet which is indescribable.  I am so grateful to have this talent from God.  I often find myself drawing when life seems unbearable.  This allows me to find peace and harmony."
Stephanie T., another featured artist who is now earns a living with her art, shared her enthusiasm about the art and recovery connection: "Give art inspiration—art will give your recovery so much more.  Art is a process, the same as the recovery process.  Art has contributed to my recovery by giving me proper solitude. . . . Because art and recovery are deeply personal, art and recovery is a very unique way of changing people's attitudes, values, feelings, and goals.  Earning a living as an artist is satisfying and contributes to life through meaning and purpose. . . .  Art is a life-long passion that gives me the perfect balance of a meaningful life despite my mental illness."
The also exhibit featured several other artists.  Provider agencies represented included: Pineland CSB, View Point Health, Georgia Rehabilitation Outreach, Georgia Mental Health Consumer Network, Lookout Mountain, and McIntosh Trail.