DBHDD provides community-based, recovery-oriented care to help people live meaningful and fulfilling lives. The department is partnering with the Georgia Mental Health Consumer Network (GMHCN), the Georgia Council on Substance Abuse (GCSA), and the Georgia Parent Support Network (GPSN) to offer Recovery-Focused Technical Assistance. This program supports community provider staff by sharing practices that promote a recovery-focused approach to all services. The organizations involved with this work are part of the Georgia Recovery Initiative, which seeks to promote recovery in Georgia.
"DBHDD, through the Office of Recovery Transformation, is building community recovery partnerships with community providers, stakeholders, and families," said Office of Recovery Transformation Director Mark Baker, whose team is leading DBHDD's efforts with the program.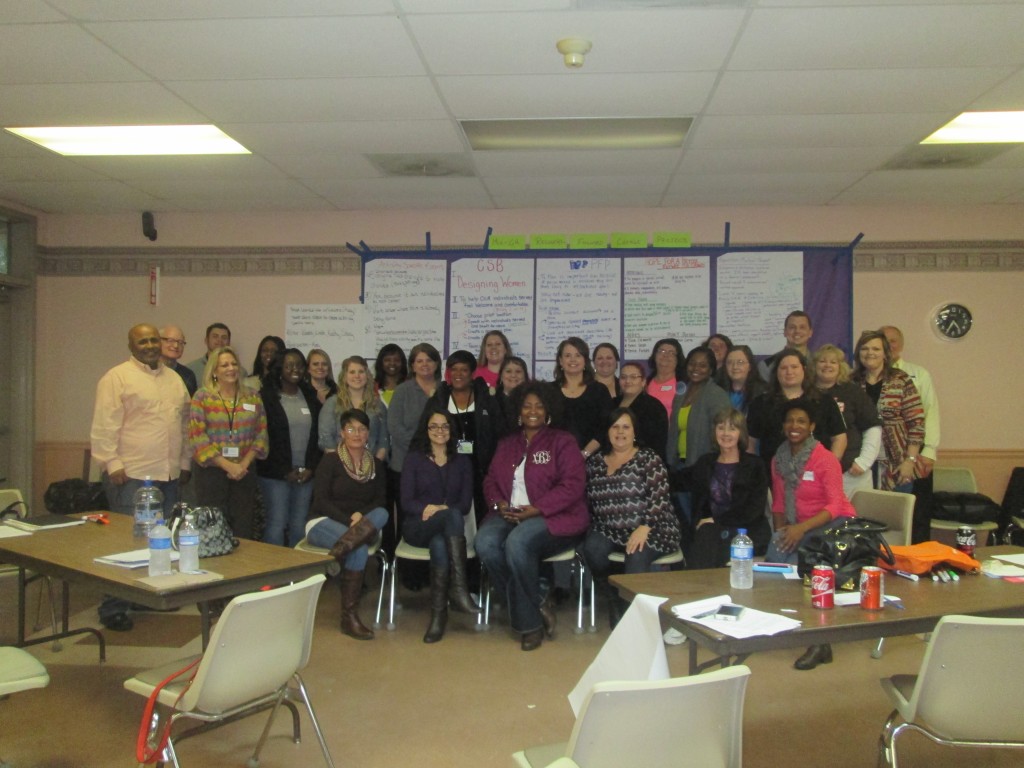 Funded by DBHDD, the program has piloted with the CSB of Middle Georgia (Dublin), Advantage Behavioral Health (Athens), Cobb-Douglas CSB (Marietta) and Community Friendship (Atlanta). A team of facilitators, made up of consultants Dr. Dietra Hawkins and Dr. David Stayner, along with Brent Hoskinson and James Guffey of GMHCN, and Owen Dougherty and Tony Sanchez of GCSA, conducted the workshops and are continuing with follow-up technical assistance at each organization.
The program's goal is to help provider staff make recovery sustainable for the people they serve. "This means supporting people as they move toward the life that they want to live, a joyful and happy life, that is based on their goals, dreams, and aspirations," said Brent Hoskinson, one the program facilitators. "We are seeing amazing projects coming out of this process that organizations can put into practice almost immediately."
The Recovery-Focused Technical Assistance program encourages collaboration between DBHDD's providers on effective strategies for sustaining recovery. "What better process could there be than one that offers to our providers the opportunity to build on what they already know, what works best in their local community, and gives them an opportunity to learn from the successes of others?," Hoskinson said.
"I was truly amazed at the energy, excitement, and participation during the two-day learning event," said facilitator James Guffey. "By working in collaboration, as an inclusive team, this really mirrored what recovery is all about."
Staff at CSB of Middle Georgia, the initial pilot site, gave the program rave reviews. Read what they had to say below:
"I learned so much and am looking forward to working with this group of people."
Shannon Corso
"My experience with [the workshop] was amazing. I learned so much about myself and my fellow co-workers. I developed a strong bond with many co-workers that I had never met before or knew very little of. It strengthened my commitment to my job as well as the individuals that I serve."
Ashley Lewis
"I am grateful and blessed that I work at CSB of Middle Georgia and about how open and enthused we all are in the positive changes to come."
Lisa Clark
"I thoroughly enjoyed the workshop. We were visited by many wonderful people, including Dr. Dietra Hawkins and Dr. David Stayner who helped us reignite the fire in the employees here in Central Georgia. Sometimes we start to lose sight, or forget, about what really matters: improving people's lives. The [workshop] helped us put this back into perspective and helped us realize that change was not as difficult, nor as scary, as it seemed. Now, we have begun some small success projects and we're also discussing the future — bigger successes. I know we truly have become an even more recovery oriented center with your assistance, support and encouragement."
Elizabeth Button
"I really got a lot out of the training. It helped me to see that the people we help do have a voice. For me as a recovering person that is very encouraging. It also encouraged me to share my story. I really want to help others find that hope that they too can get well and recover from addiction, mental illness, or whatever the problem is. You can recover!!! How bad do you want to recover?"
Cynthia Thigpen
"When our team started out…, I believed that we would all learn new things. I absolutely had no idea that the two days spent with our Change Team and Change Team 2 members would have been as inspiring and humbling as they were. Dr. Dietra Hawkins, Dr. David Stayner, along with Owen Dougherty, Brent Hoskinson, Tony Sanchez, and James Duffey, were without blemish in their methods of keeping us on task and our eyes and hearts focused toward recovery. It was an emotionally-laden two days, but a wonderful opportunity to build our team relationships, both individually and collectively. It was the absolute best kick-off training to being a more recovery-focused agency that I have participated in during my tenure with the CSB of Middle Georgia. Our clinical, support, and administrative staff, as well as our staff with lived experience are excited to be participating with DBHDD as a pilot with regard to [the] training, and we look forward to seeing the fruits of our labors in the projects that we are undertaking at our agency,  as well as the ripple effect that will occur in our community following our symposium, which is planned for April 10, 2015. The excitement, energy, and inspiration from those days in late February continue to resonate at our agency. We are looking for exceptionally good things to happen here throughout the weeks and months to come."
Denise Forbes, CEO