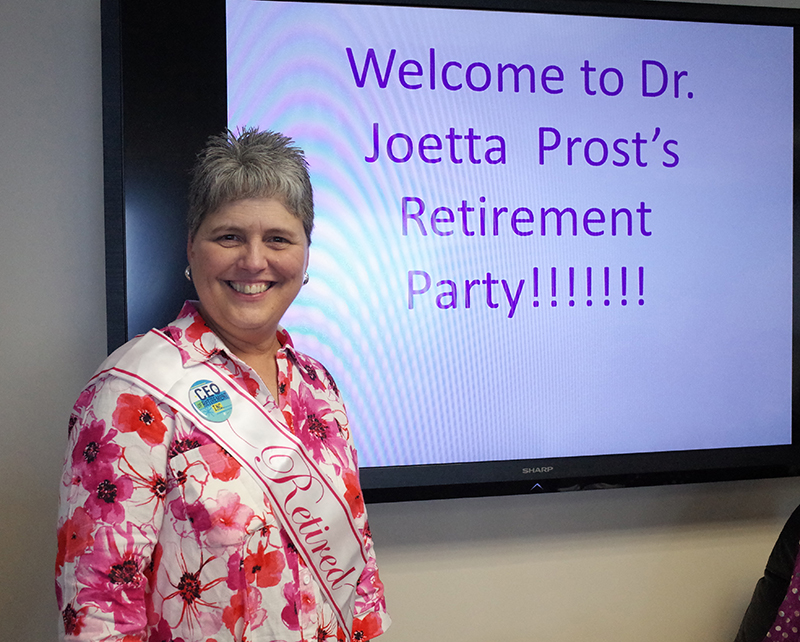 After 35 years as a psychologist, 13 of which were spent in state service, DBHDD Director of Policy Management Joetta Prost, Ph.D., retires today. We sat down with Joetta to discuss the changes that she's seen in her long career and the legacy she leaves behind at DBHDD.
Let's talk policy!
It's not like policy is very glamorous, so I counteract that with my enthusiasm! One of my favorite quotes is from Ralph Waldo Emerson: "Nothing great was ever achieved without enthusiasm."
How has the culture shifted since you began policy management for DBHDD?
The big change is that people get it. They understand that policies serve as the foundation for better practice, for better services, for better employee actions, and for better employee satisfaction. In the long run, most people want to do their jobs well, and they want to do what's right. If they can easily find out via policies what they need to do, then services will improve and they'll feel good about their work.
The whole concept of continuing to improve policies, and that it's never done… I had to realize that to let myself retire. The work will keep going because there are good people involved: people in the hospitals who understand the importance of policies; people in leadership roles at 2 Peachtree who get it; and employees throughout the service system who appreciate being able to access useful policies.
What changes have you seen since you began your career as a psychologist
We used to refer to the "chronically mentally ill," and that was an example of the language we used. We weren't intending to be insensitive or negative; it was just the clinical language of the day. There's a focus now on recovery as a necessary ingredient for helping individuals live full lives. I wasn't taught that in graduate school 35 years ago. I was taught diagnosis and treatment and to focus on what you should do to treat the person, rather than what you could do to help them achieve recovery.
Another change was that I was taught nothing about trauma of any kind. Sexual abuse just wasn't discussed in graduate school in the 70s. It wasn't until the feminist therapists of the late 70s and early 80s [raised] awareness of that. I went to a feminist psychology conference in 1980 and bought a couple books that were collections of first-person accounts of sexual abuse.
In my first job, I'd go to these clinical staffings and I was 29 years old, a new psychologist. There would be a case presentation and staff who weren't involved in the person's care were supposed to offer treatment suggestions. I would say, 'Has anyone ever asked this woman if she's been sexually abused?' And that was a radical thing to do. It's an obvious question today, but it wasn't then.
Mental health services have also changed in Georgia since you began with the state.
There was a total of about four mental health program staff when I started in DHR-MHDDAD. What we have now is so much better in terms of the range of community services and quality of hospital services. It's so interesting to see things from that big system level, keeping in mind what it was when I was a provider.
Tell us about your experiences as a provider.
In Kansas, I was a clinical psychologist in a large behavioral health organization with inpatient and outpatient services. I worked with individuals with serious illnesses and supervised the community support program.
In northwest Ohio, I was the executive director of a mental health agency. We provided emergency mental health services 24/7. We operated a crisis stabilization unit and mobile crisis services, with eight community hospitals and four counties making referrals to us. We developed housing with community supports. It was innovative at the time to offer permanent housing with support staff available in the building. If a person was hospitalized, they didn't lose their apartment. Obtaining housing is a real problem in a rural area.
My introduction to Georgia's community behavioral health system was at Northside Hospital where I managed mental health services.
How are you planning to enjoy retirement?
I will be taking a volunteer position as a psychologist on the ministerial credentialing board evaluating candidates for my denomination. [Being a] psychologist is really one of my primary identities. It's more than a license, more than a profession. This will enable me to use my psychology brain and my spiritual heart. I'll also be traveling and spending time with family.
Have you enjoyed the time you've spent at DBHDD?
It's a great place to work, and this is the best time with the current leaders. They really get it. They understand, they're thoughtful, and they value employees. DBHDD is at its best place it's ever been and the work has been fascinating and challenging. It makes it hard to retire because I like it so much.
Thanks, Joetta, for all your years of service and dedication! Enjoy your retirement!