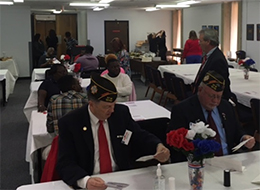 West Central Georgia Regional Hospital, along with three veterans service organizations, hosted a special recognition lunch event for staff, client, and special guest veterans in observance of Veterans Day last month.
The local veterans service organizations included the American Veterans (AMVETS) Post 9, Veterans of Foreign Wars (VFW) Post 12110, and the Marine Corps League Detachment 1402. The mission of these organizations is to assist veterans and their families.
The event was coordinated by WCGRH staff member Brent Eaton, who is also a veteran and member of the veterans service organizations which supported the event. Volunteers who also helped put on the event included hospital staff members of the employee appreciation function team. Guests included Edward L. Richards post commander of AMVETS, Donald Anthony Commander of VFW Post 12110, Mackey Carter Chaplain of VFW Post 12110, Charles Youmans member of AMVETS and VFW.
Regional Hospital Administrator John Robertson welcomed the guests, and Eugene Brown provided the invocation. Brent Eaton awarded 50 staff and client veterans with a certificate of appreciation for their years of service in the United States Military. Veteran and active duty service members represented included the U.S. Army, Navy, Air Force, Marines, National and State Guard, and Army Reserve.