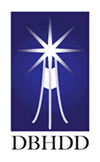 Georgia Department of Behavioral Health & Developmental Disabilities
Frank Berry, Commissioner
2 Peachtree Street NW
Atlanta, GA 30303

February 14, 2014
Georgia Crisis &
Access Line
(GCAL)
1-800-715-4225
www.mygcal.com
---
UPCOMING EVENTS
Mental Health Day at the Capitol
February 19, 2014
8:00am
Disability Day at the Capitol
February 20, 2014
8:00am
Unmasking Children's Mental Illness
Mardi Gras Gala Ball
March 4, 2014
6:00pm - 9:30pm
System of Care Academy
June 24-26, 2014
(Save the Date)
---
CONTACT US
press@dbhdd.ga.gov
This week: SB 349 passes in committee
Monday, the Senate Health and Human Services Committee unanimously passed SB 349, the department's CSB governance legislation.
Next week: 2014 Mental Health Day at the Capitol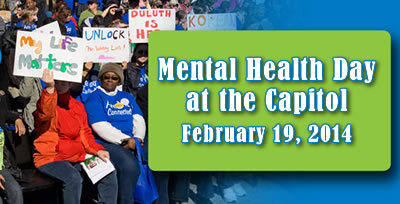 Join DBHDD and partners on Wednesday, February 19th to celebrate mental health awareness. Sponsored by the Behavioral Health Services Coalition, Mental Health Day will include breakfast, a rally on the Capitol steps, and an opportunity to visit with legislators. Register.
DBHDD provides a comprehensive array of mental health services, helping clients to experience recovery in community-based settings as close to home as possible. Learn about the full spectrum of care.
Adult Mental Health
Community services are provided through contracts with private, for-profit, non-profit, and quasi-public agencies under contract with DBHDD. Consumer choice is embraced throughout the service-delivery system and is fostered through the development of multiple types of provider agencies that vary in scope of services provided.
Child & Adolescent Mental Health
DBHDD's Office of Child & Adolescent Mental Health offers children and their families a range of treatment and support services to address emotional and behavioral concerns. Early treatment of these issues is critical to help a child complete school and foster fundamental developmental skills.
Save the Date: June 24-26, 2014
System of Care Academy
Stone Mountain, Georgia
Presented by the Governor's Office for Children and Families and DBHDD
Last week: DBHDD released from CRIPA settlement
The U.S. Department of Justice filed a motion in federal court to close the 2009 settlement agreement related to care provided in Georgia's state psychiatric hospitals.
The settlement of the Civil Rights for Institutionalized Persons Act (CRIPA) agreement is a significant accomplishment for the State of Georgia, DBHDD, and its state hospital system. State hospitals play a critical role in Georgia's behavioral health system, and the department remains committed to continued improvement in the hospital system.
This accomplishment would not have been possible without the leadership of Governor Nathan Deal, the support of the Georgia General Assembly, and the hard work and dedication of DBHDD's hospital staff and their commitment to quality care for each individual served.