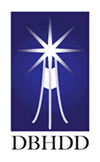 Georgia Department of Behavioral Health & Developmental Disabilities
Frank Berry, Commissioner
2 Peachtree Street NW
Atlanta, GA 30303

February 6, 2014
Georgia Crisis &
Access Line
(GCAL)
1-800-715-4225
www.mygcal.com
---
UPCOMING EVENTS
Mental Health Day at the Capitol
February 19, 2014
8:00am
Disability Day at the Capitol
February 20, 2014
8:00am
---
CONTACT US
press@dbhdd.ga.gov
Department introduces legislation to strengthen safety net

Governor Deal's floor leader Sen. Charlie Bethel (R-54) and DBHDD legislative director Andrew Johnson presented SB 349 before the Senate Health and Human Services committee. The bill, which strengthens the state's public safety net for behavioral health and developmental disability services, is expected to receive a committee vote next week. Co-sponsors include Sens. Freddie Powell Sims (D-12), Bill Jackson (R-24), and Butch Miller (R-49).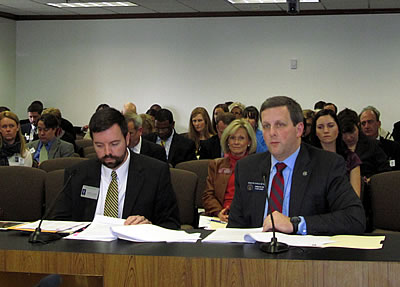 Pictured (L-R): Andrew Johnson, Sen. Charlie Bethel (February 5, 2014)
FY 2015 Budget has first hearing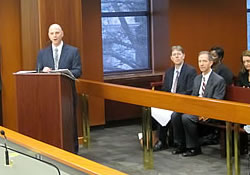 On February 4, Commissioner Berry presented DBHDD's budget for fiscal year 2015 to the House Appropriations Human Resources Subcommittee, which is chaired by Rep. Katie Dempsey (R-13).
View the FY2015 Budget PowerPoint.
Success in the face of adversity during winter storm

Last week, severe weather conditions paralyzed many parts of the state. However, during this time of extreme struggle, DBHDD employees and partners remained devoted to providing uninterrupted services across our entire network.
Below are just a few of the numerous examples of the outstanding efforts made across the state:
Staff members across the state were taken to work by other staff in four wheel drive vehicles.
East Central Regional Hospital in Augusta and Georgia Regional Hospital in Atlanta were prepared for coverage around the clock. Staff braved the elements, worked double shifts, camped out and stayed overnight.
In Cobb County, about 50 employees spent the night at the CSB facilities.
Georgia Crisis & Access line (GCAL), the hotline that serves as Georgia's point of entry to get crisis care services, worked through the winter weather and provided uninterrupted services across the state.
Mobile crisis operations continued in the face of the horrible conditions, with 18 mobile crisis interventions being dispatched on Wednesday.